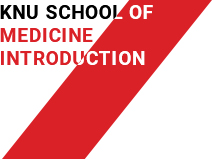 Kyungpook National University School of Medicine has a glorious long-standing history. In the early 20th century, Daegu College of Medicine, our predecessor, was the cradle for the modern medical education in Korea along with Kyungsung College of Medicine in Seoul, Kyungsung Imperial University School of Medicine, Severance College of Medicine, and Pyeongyang College of Medicine in Pyeongyang. Based on this heritage, our school has been leading the creation and development of modern medical science and education in the country.
As one of the leading medical schools, Kyungpook National University School of Medicine recently took the important role as a pioneer in the creation of the new medical curriculum which has been started in the early 1990s, and the reformed curriculum has now been the standard for medical education in Korea. In particular, we were one of the first medical schools in Korea to adopt Block Lecture and PBL (Problem Based Learning) in our education curriculum. Moreover, by using OSCE (Objective Structured Clinical Examination) and CPX (Clinical Performance eXamination), we have reinforced our clinical education.

With the advanced educational curriculum, we enable our students to study more efficiently. Furthermore, in order to discover and cultivate students with great potential, we are providing opportunities for students to participate in a variety of research programs during vacations. Students are encouraged to take part in the programs carried out not only here but also abroad.
A student dormitory named "Myung Eui Kwan", which is equipped with the newest facilities and situated near the campus, welcomes students from other regions to study at our school. In addition to our own scholarship, we offer scholarships from outside sources to financially assist students in need. Moreover, the second campus, which was opened in 2013, will help us provide better environment and more opportunity for students.
Kyungpook National University Hospital, which provides students with clinical clerkship training, is truly one of the top-notch medical institutions with the latest facilities and excellent medical teams. In addition, with opening the second one in Chilgok, the hospital will be able to provide a wider range of clinical education.
The professors and researchers of Kyungpook National University School of Medicine are continuously devoting themselves to creative researches, and we have yielded highly acclaimed research achievements at home and abroad. By attracting research funding from the Korean government, supporting human and material resources, and building the infrastructure, the school continues to provide researchers with the atmosphere where they can produce their best results. Moreover, the school will continue to ensure the recruitment of PhD students, post-docs, and research professors both within basic medical research and clinical research in order to further increase the internationally recognized products and high level of medical science carried out at school.
Kyungpook National University School of Medicine has about 7,700 graduates, and our alumni are working in diverse fields, such as medical practice, medical education, research, and public health both inside and outside Korea. Our alumni's accomplishments have not only contributed to Korean modern medicine but are being a model for our students.
Kyungpook National University School of Medicine is not going to dwell on its proudest moments of the past. We are going to actively prepare a new blueprint to step up as a world-class medical education and research institution not only to meet the demands of highly qualified medical students within basic and clinical medical fields but also to meet the growing demands of biomedical PhDs in the biotech and pharmaceutical fields.
Our doors are open to the local students as well as to excellent students from different countries. We are always ready to provide the best environment.